Access Spiral Lock Seam Technical Data for Perforated Metal Tubes
Reference the technical details of our Perforated Metal Tubes
Metalex offers two seam designs for perforated spiral tubes: the flush (outside) and the lock seam (inside).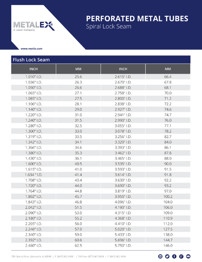 Since each of these designs includes different size ranges and patterns, we've put together a Spiral Lock Technical Data Sheet to help with your perforated metal tube selection process.
Complete the form to the right to download the technical data sheet for Spiral Lock Seam products from our Perforated Metal Tubes line.