Get Instant Access to Open-Grip® Product Data
Find information on running boards, platforms, and brake steps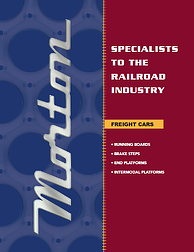 Since Metalex merged with Morton in 2011, we've been able to provide superior products in the
railroad industry.
All of these products are manufactured with our Open-Grip® design to ensure the safest walking surfaces in the railroad freight car industry.
These products include:
Running boards
Brake steps
End platforms
And more
Complete the form to the right to download the Morton Rail Products Running Board Brochure to learn more about the product line.